Forks Over Knives: The Plant-Based Way to Health –

$10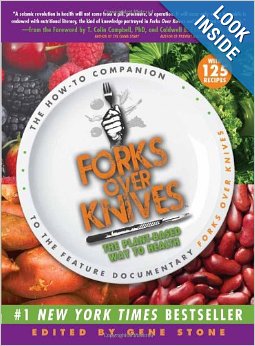 What if one simple change could save you from heart disease, diabetes, and cancer? For decades, that question has fascinated a small circle of impassioned doctors and researchers—and now, their life-changing research is making headlines in the hit documentary Forks Over Knives.
Their answer? Eat a whole-foods, plant-based diet—it could save your life. It may overturn most of the diet advice you've heard—but the experts behind Forks Over Knives aren't afraid to make waves. In his book Prevent and Reverse Heart Disease, Dr. Caldwell Esselstyn explained that eating meat, dairy, and oils injures the lining of our blood vessels, causing heart disease, heart attack, or stroke.
In The China Study, Dr. Colin Campbell revealed how cancer and other diseases skyrocket when eating meat and dairy is the norm—and plummet when a traditional plant-based diet persists. And more and more experts are adding their voices to the cause: There is nothing else you can do for your health that can match the benefits of a plant-based diet.
Now, as Forks Over Knives is introducing more people than ever before to the plant-based way to health, this accessible guide provides the information you need to adopt and maintain a plant-based diet. Features include:
Insights from the luminaries behind the film—Dr. Neal Barnard, Dr. John McDougall, The Engine 2 Diet author Rip Esselstyn, and many others

Success stories from converts to plant-based eating—like San'Dera Prude, who no longer needs to medicate her diabetes, has lost weight, and feels great!

The many benefits of a whole-foods, plant-based diet—for you, for animals and the environment, and for our future

A helpful primer on crafting a healthy diet rich in unprocessed fruits, vegetables, legumes, and whole grains, including tips on transitioning and essential kitchen tools

125 recipes from 25 champions of plant-based dining—from Blueberry Oat Breakfast Muffins and Sunny Orange Yam Bisque to Garlic Rosemary Polenta and Raspberry-Pear Crisp—delicious, healthy, and for every meal, every day.
[wp_cart_button name="
Forks Over Knives: The Plant-Based Way to Health
" price="10″]
Health According To The Scriptures –

$14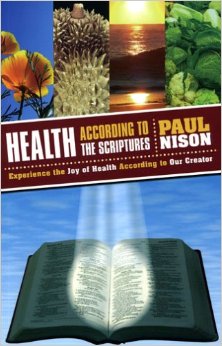 Why do some people get sick while others stay healthy? If diet were the only factor, why do some people who eat a healthful diet still get sick? This proves that diet is not the only factor. Why do some people who eat a very unhealthful diet not get sick? Are they just blessed? Are they just in the right place at the right time? Our Creator designed our bodies to be perfect and never to get a disease. He made us to be perfect. Anytime you experience discomfort, it s because you re not following our Creator s commands. The answer to feeling well again simply comes down to going back to our Creator s words. What does He say about health? What does He say about diet and food? What does He say about exercise and rest? Do you know what He says? Do you follow what He says? All the answers can be found in the Scriptures (holy Bible). During my lectures on the road, our Creator promptly guides my thoughts toward the very scriptural passages that run parallel to and shed light on my ideas. The Scriptures are a great instruction manual of how to live life; though its messages date back thousands of years, still they hold strong and ring true to this day. I wrote this book to help you find these timeless answers. Enjoy! In all your ways acknowledge Him, and He shall direct your paths -Proverbs 3:6
[wp_cart_button name="Health According To The Scriptures" price="14″]
Living on Live Food –

$21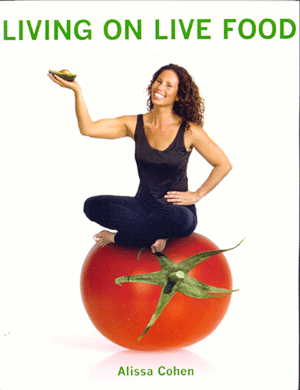 Living on Live Food teaches you what a raw and living food diet is and how to get started immediately! But that's not all, this motivational book also covers such topics as: addiction to cooked foods, changing your thought process, being social while staying healthy, enzymes, acid-alkaline balance, strategies and techniques, matters beyond food… plus so much more. 290 Recipes and detailed 4-week plan complete with menu, shopping lists and meal preparation instructions. 15 compelling real-life success stories with amazing before and after photographs. "You will see results! Not within years, or months, or even weeks, but within days! Does this sound like I'm promising a lot? I am! But I'm not exaggerating. You'll believe me almost from the instant you start eating this way. It's a miracle just waiting to happen to you." (600 pages. Paper)
[wp_cart_button name="Living on Live Food" price="21″]
The Battle for Health Is Over pH: Life and Death Hangs in the Balance –

$9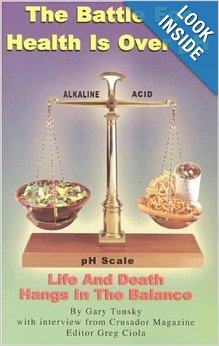 Are you aware of the important role the body's acid-alkaline balance plays in maintaining optimum health? Many top research scientists and microbiologists have shown scientific evidence that proves balanced pH is a foundational component to health and wellness. One of the contributing factors in all disease can be boiled down to one very simple thing — TOO MUCH ACID! In this groundbreaking new book you'll learn the simple secrets that the medical elite are hiding from you. If you're sick and tired of the confusion and mystery medical science has attached to disease, this powerful new book will cut through the clutter and show you how to bullet-proof your body from the ravages of disease.
[wp_cart_button name="
The Battle for Health Is Over pH: Life and Death Hangs in the Balance
" price="9″]
The Daylight Diet: Divine Eating for Superior Health and Digestion –

$18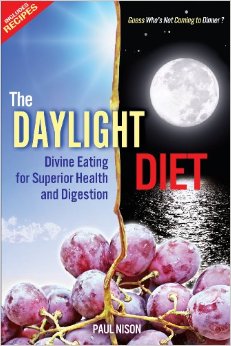 Did you know when you eat is just as important as what you eat? It can determine your total health and wellness. Raw Food Chef and Author Paul Nison has studied the topic of health and digestion for years and will share information no one else is talking about in his newest book, The Daylight Diet. In this book you will learn the ideal times to eat for best digestion. The best times to be awake and go to sleep. How to overcoming late-night eating, lose weight, gain energy and so much more. This way of eating has also been prove to build immunity to fight disease.
[wp_cart_button name="The Daylight Diet: Divine Eating for Superior Health and Digestion" price="18″]
[show_wp_shopping_cart]