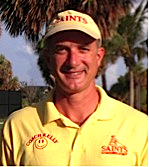 Coach Kelly Nevius
Executive Director of the Christian Homeschool Athletic Assoc. (CHAA)
BHtv Video – The Biblically-Healthy Heart
Coach Kelly is the Executive Director of the Christian Homeschool Athletic Association in Florida, a professional Physical Education program that impacts nearly 2600 homeschool children and youth each week, and has recently expanded to Zambia, Guatemala, and Kenya.
As an ordained youth minister for more 20 years, Coach Kelly has extensive ministry, counseling, and speaking experience that he uses on the field to impact the lives of the children in his care.  He has a degree in Psychology with an emphasis in Child Development and a Masters in Theology.  In his spare time he likes to hike, play tennis, ride his motorcycle, play handyman, and this past January finished his 7th marathon.
His main passion is to encourage others towards a deeper walk with God through worship, speaking, coaching, and authentic living, and to be an example of his life verse: Ephesians 3:20, "To Him who is able to do exceeding, abundantly, beyond all we could ask or think according to the power that is at work within us…"   He is married and has a 19 year-old son.
Contact Info for Coach Kelly: 
Website:  www.CHAASaints.com
Email:  coachkellysaints@yahoo.com