Do you ever get an email from us and wonder, "What does THAT have to do with Biblical health?"?
Yeah, we know…as we have to make decisions all the time about what to publish.
Something that appeals to others, may not appeal to you.
And, don't forget, we define "Biblical Health" as Paul does in 1 Thessalonians 5:23, that we would be preserved blameless in Spirit, Soul, and Body.   So, basically ANY topic that has to do with our lives as Believers has possible relevance.
Along the way, we've handled a LOT of topics, but there is one category that keeps getting people's backs up….it's an "elephant in the room", so to speak, an "800lb gorilla", that we wish would go away, but it remains.
What is it?
Are business and ministry meant meant to be mixed?  Can what we do for a living be just as holy, just as much a service to the Kingdom, as things like prayer, fasting, charity, etc?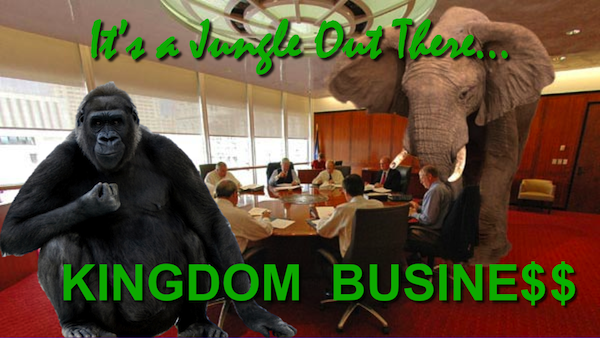 Over the past few weeks, we've been telling you to check out another website:  Kingdom.consulting, which is Chaim Goldman's re-newed "business that ministers".
We always enjoy promoting our BHtv experts, and so when the Almighty showed Chaim that it was time for him to get back into coaching Kingdom-minded Believers about business (as this truly is his calling), we wanted you to know about it. (Don't worry, he's still 'not and doctor" and the CEO and Exec. Producer of BHtv too!)
But, that old elephant has stirred things up again, and maybe you have not yet gone to Chaim's new website and watched the amazing free videos he's produced, because your feelings about business and ministry may be holding you back.
BUSINESS IS A HEALTH TOPIC?
So, is business a Biblical health topic?   Well, we think it is!
Most people work in some kind of vocation, and spend most of their waking hours engaged in it.  The Scriptures tell us that "six days a week you shall work", and so how can we think our faith is something that is just relegated to quiet time in the morning, one Sabbath day a week, and when we leave the office?
Let's not forget that we are called to holiness (set-apartness) in ALL things, and so what we do for a living is just as holy as anything else we do in our lives, as long as (and this is key) it is submitted unto the Lord.
This is how I ran my Chiropractic office for more than 20 years; the name of my practice in Florida was boldly named "New Life Chiropractic", so patients knew upfront what we were about.
The church tends to hold an anti-business attitude, that work is a place to make money and be a good witness, but not somewhere a person called to full-time ministry should be.  Because of this, along with the shenanigans of a handful of rip-off-artist televangelists, "Christian business" gets a bad rap among most Believers, and even the talk of faith and business together makes a lot of us uncomfortable.  (You may even be feeling that discomfort now.)
You've come to expect paradigm-shifting thinking from BHtv, and so expect it now.  Chaim looks at his business as his service unto God, and so rather than working secular jobs and ministering elsewhere, Chaim is focused on serving the Kingdom 24/7, whether through BHtv, Kingdom Consulting, or anything else he spends his time on, including marriage, homeschooling, etc.   (And, btw, so am I.)

Over the years, this perspective has allowed Chaim to experience amazing revelations on life, business, and ministry, and has made him a VERY effective coach with other Kingdom-minded Believers.
To celebrate the launch of Kingdom Consulting, Chaim just produced a series of free videos about how to find YOUR unique voice and bring it to the world, that are inspirational, educational, practical, and challenging.  Of course, just like in his work at BHtv, it's all founded on Scripture.
Watch the free "Find Your Voice" video series at:  http://Kingdom.consulting, just click on the "Find Your Voice" link.  (he even addresses the "elephant" issue himself in Video #4)
Also, starting this coming Tuesday (September 9th), Chaim begins an 8-week, online, live Kingdom Business course called "Share Your Voice" that, by all accounts, will be a life-changer for all who participate.
Registration is now open for the course, which has a super-reasonable tuition (that includes everyone in your household for one low fee).
There is a full info page, with video, a detailed description of each class, and even lots of FAQs at:
http://Kingdom.consulting/share-your-voice-course

We encourage you to check out Kingdom Consulting, watch the free videos, and consider joining the course even if you don't have a business, because what Chaim teaches in business terms is fully-applicable to any Believer who wants to live his or her life in Kingdom service.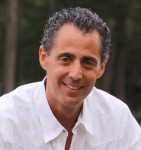 Plus, as you have come to expect, Chaim always presents with a lot of heart and a lot of humor, so he's a powerful and enjoyable teacher from whom to learn and be coached!
Dr. Jeff
—————
So, what do you think about this "elephant in the room"?  Please leave your comments below.