JOIN Dr. Andrea Hazim,
Isaiah & Cyrus (her two oldest sons,)
along with other future leaders


this summer July 13-18 in Rice Lake, Wisconsin


Visit:

www.Empowering4Impact.com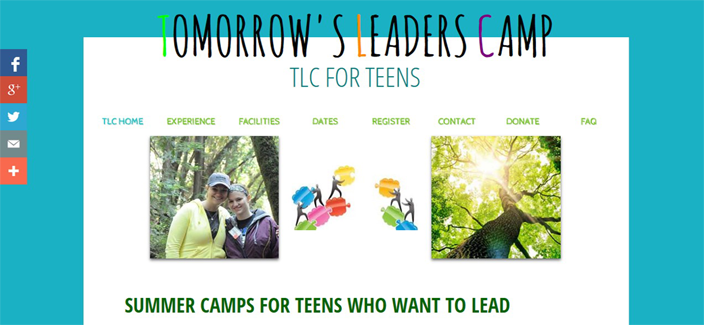 New Teen Camp Invites Youth to Wisconsin
for Leadership Development and Summer Fun!
July 13-18 —

Rice Lake, Wisconsin… Empowering 4 Impact invites youth from throughout North America to explore Tomorrow's Leaders Camp, a week-long summer teen camp focusing on leadership developmentfor youth. Based at Northern Wisconsin's Hunt Hill Audubon Sanctuary, Tomorrow's Leaders Camp was designed as an affordable path to giving teens the tools they need to be become great leaders—offering an opportunity to practice those skills in a controlled setting.
As both a life coach and parent, Camp Director Tanya Alexander launched the camp to fill a need for today's increasingly distracted teenagers. "Today's teens have within them the same potential and strength of our parents' and grandparents' generations," she says. "We just need to remind them of that. An investment in our kids is not only an investment their future, but ours too."
Tomorrow's Leaders Camp

is specially created to build confidence and leadership skills for young people. Our six days are filled with transformative experiences which address issues that are important to them. Teens will learn core values and principles that serve as a solid foundation from which they can communicate, empower, and lead.
Who can participate?

We welcome middle school & high school aged participants who are interested in making a difference in their personal lives, their community and the world at large. Bond with other young leaders from across the country and be prepared to step into your greatness by participating in personal growth activities that will be the core emphasis of our week together. Get ready to build a circle of friends that will last a lifetime.
Attend TLC this July 13-18
Hunt Hill Audubon Sanctuary – Sarona, Wisconsin




Visit:

www.Empowering4Impact.com
Why join us at TLC?
Meet other young people and build open, honest friendships in a trusting and safe environment

Significantly improve your communication skills

Learn how to trust others and most importantly yourself

Learn the importance of a team and the difference you can make in the world

Enhance past, present, and future relationships

Build an awareness and breakthrough limiting beliefs

Eliminate the resistance and the things that hold you back even when you are not sure what they are

Increase self-esteem and learn how to realize your dreams through personal transformation

Discover your passion and clarify your direction and focus
Faculty & Staff:


The Lead Facilitators,

Victor Blanco and Sona van der Hoop,

combine their 30+ years of experience which include the private, business and youth sectors, both on a local and international level

to bring proven best practises to the curriculum.

Guest Teacher, Dr. Andrea Hazim, will be a member of our TLC Staff this summer and is looking forward to sharing an excerpt from her life enhancing "Lessons For Healthy Living" curriculum with our youth.
This seasoned youth program with proven results will empower and prepare youth for self-discovery with applications which will allow them to step into the LEADERS they were born to be!
The modest program cost, available at a discount for early registrants, includes all meals and lodging for the week as well as transportation to and from the Minneapolis/St. Paul airport.

Families interested in learning more about Tomorrow's Leaders Camp or taking advantage of early registration rates should visit

www.tomorrowsleaderscamp.com

or contact Tanya Alexander at Empowering 4 Impact,

tanya@empowering4impact.com

, or call 715-296-3037.
**I would love have your youth join my family as we fly to & from the camp and participate in this life changing leadership adventure! 😀
***Let me know what you think…I will buying my airline tickets soon.
Blessings,
Andrea