EVERY   BODY   NEEDS   A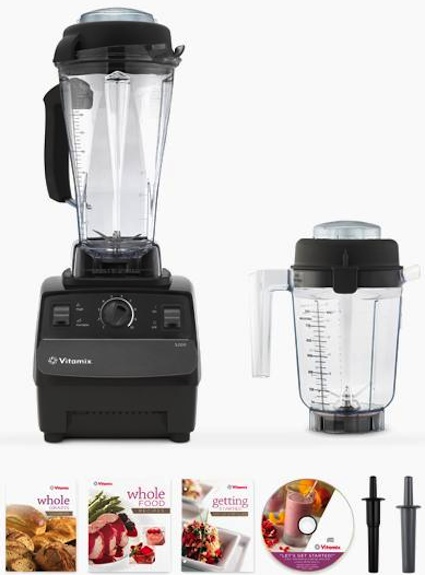 Invest in the World's Most
Versatile, Durable and Reliable
Blender through BHtv and receive:
> 30-Day No-Risk At-Home Trial
>  Free Shipping 

(US & Canada)
>  Industry's Best Warranty
+
> Exclusive 1-hour Demo and Recipe
Video with BHtv's Dr. Jeff and Chaim

OR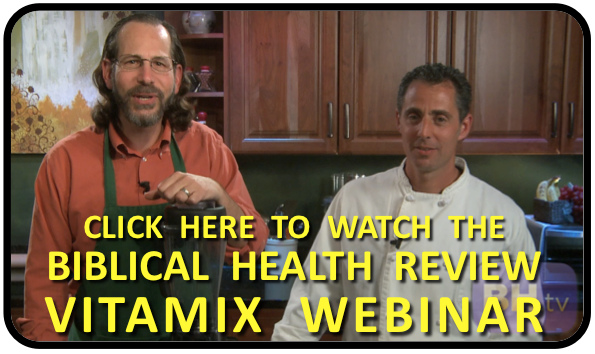 Let's face it….you know you should be eating healthier, but who has the time?!
Unfortunately, our on-the-run lifestyle is killing us!!
Americans spend about 50% of our food dollars on fast and processed food, and then over 20% of our income on health care because we so sick, fat and dying.
And when we try to eat healthy, we find that our food has much less nutrition than it did in the past, or we end up cooking most of the good stuff out of it.
But what if you could make nutritious meals quickly and easily,with minimal clean up….while also getting the most out of your food dollars?
Well, that's why Biblical Health TV is proud to be a provider of Vitamix food preparation machines, which all offer such amazing versatility, durability and dependability.
Vitamix machines offer you a variety of lifestyle benefits, from making whole-food nutrition more accessible, to helping children enjoy fruits and vegetables, to saving valuable time in the kitchen.
At BHtv, our families use our Vitamixes every day, and we completely believe that when it comes to living a healthy lifestyle, "Every Body Needs a Vitamix"
And, when you get your Vitamix through BHtv, you not only receive the industry's best warranty (all parts and labor and 2-way shipping included), plus Vitamix's 30-day No-Risk At-Home Trial (100% Money Back Guarantee and Vitamix even pays the return shipping), and Free Shipping in the US and Canada, but you also get access to an exclusive 1-hour Vitamix Demo and Recipe Bonus Video with Dr. Jeff Hazim and Chaim Goldman.
And, of course, you'll be supporting the work of Biblical Health TV at the same time because the good people at Vitamix pay us a commission on your purchase when you use our link.
To choose which Vitamix is right for you, click the link below to go directly to the Vitamix.com website. 
When you place your order, it should automatically add the BHtv referral link to your order….but just in case, make sure to put in Promotion Code:
06-008629 

(That way, you'll receive free shipping and our exclusive 1-hour demo and recipe video.)

Make an investment in yourself that will not only benefit your health and well-being, but also maximize your food budget.
These self-cleaning machines allow you to chop, blend, cream, purée, and more—through every course of the meal—with a single appliance.  You'll enjoy the same power and performance relied upon by professional chefs to create restaurant-quality gourmet in the privacy of your own home.
Vitamix products are built by hand in the U.S. with at least 70% American components, and stand up to years of demanding daily use in your home.
Vitamixes truly are the world's most durable, most reliable blender.
But…if any part of your machine needs to be repaired or replaced during your warranty, Vitamix will take care of it at no charge, including two-way shipping!
And by using our special referral link, you'll receive Free Shipping (in the US and Canada).  
Also, through Vitamix's No-Risk At-Home Trial, you can try it out for yourself for a month, and if you decide not to keep it  –  you send it back for a 100% refund and, check this out, Vitamix will even pay for the shipping on the return.  How amazing is that?! 

Plus, this exclusive 1-hour demo video gives an insider's look at using and maintaining your Vitamix, has all the recipes we showed on the webinar and more  —  including 5 different types of smoothies  —  AND we take it slow and give you all the measurements and steps.   And of course, we have a lot of fun along the way. 

OR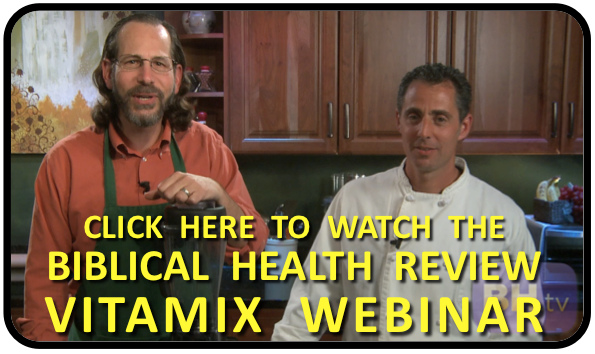 >  Please Note:  To receive access to the 1-hour Demo and Recipe Bonus video:  After purchasing your Vitamix, email your electronic receipt to:  info@BiblicalHealth.tv with the subject line: Vitamix Bonus.   Your video will be made accessible to you online through the Biblical Health TV membersite, and may be watched online or downloaded.  Any questions?  Visit our Help Desk at:  www.BiblicalHealth.tv/help