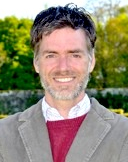 Nathan McConnell
Missionary & Professor of Theology
Palm Beach Atlantic & Trinity International Universities
BHtv Video – "God's Heart for People"
Nathan is a graduate of King's College, University of Aberdeen where he earned a degree in Practical Theology and Ethics.  He has been involved in house church leadership for five years and in full-time ministry for twelve years, and has performed mission work in the Ukraine, France, Switzerland, Cuba, and Malta.
From 2003 – 2010 Nathan pioneered and directed First Priority Campus Ministry in Palm Beach County, Florida; in 2011 he and his family served a local parish in Aberdeenshire, Scotland; and in 2012, he assumed teaching and mentoring responsibilities as Adjunct Faculty at Palm Beach Atlantic and Trinity International Universities, teaching in Biblical Studies.
Nathan and his wife, Courtney, have four beautiful daughters.
Listen to Nathan McConnell's Interview:

Audio clip: Adobe Flash Player (version 9 or above) is required to play this audio clip. Download the latest version here. You also need to have JavaScript enabled in your browser.
Contact Info for Professor Nathan McConnell:     
 Blog:  www.TheMcConnellFamily.org
 Email:  NathanMcConnell30@gmail.com