​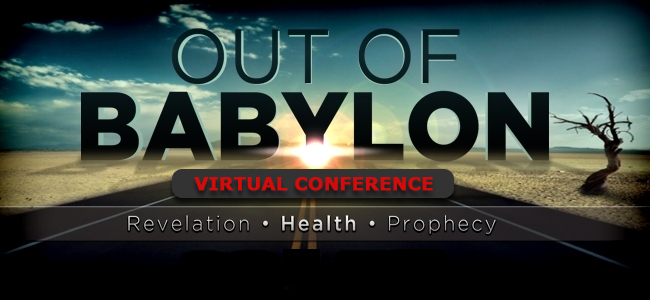 Be not conformed to this world, but be transformed by the renewing of your mind. 
Romans 12:2
In Genesis 12:1, Abraham was told to "come out of Babylon", and in Revelation 18:4, Believers are told to "come out of Babylon" as well…
This is your opportunity to educate and equip yourself and your family to come out of Babylon, and empower you to help others come out of Babylon too!

Prepare yourself for revitalization and revelation…and to have your paradigms about true health properly aligned!
The "Out of Babylon" Virtual Conference will take you on a journey to understand "Mystery Babylon", and learn how obedient, Spirit-led followers of the Messiah can and must come out of the fog of Babylon's global assault.






In September 2012, pioneers in Biblical Health came together in Charlotte, NC for the three day "Out of Babylon" Conference.
From the grass-fed farms of Jordan Rubin's Beyond Organic, to the organic kitchens of Paul Nison, to the "Back to the Garden" lifestyles of Drs. Jeff and Andrea Hazim, and Scott Laird, to the media-world of Chaim Goldman, to the prophetic Biblical exposition of Michael Rood  – this was a life-changing extravaganza for everyone who attended.
Now your entire household can join us for the Out Of Babylon Virtual Conference from the comfort of home or any internet-connected device.
-> Just one registration provides Lifetime access to the Virtual Conference for your entire Household!!
-> Plus you get the full conference fee as a credit toward buying the Conference DVD set (see below for more details)
-> Plus you are covered with a 100% money-back guarantee (see below for details)
| | | |
| --- | --- | --- |
| Drs Jeff & Andrea Hazim | Paul Nison & Scott Laird | Chaim Goldman |
Conference Schedule
(New Session Released Every Other Day, Starting Immediately)
Babylon (Part 1), Michael Rood - 90 mins
Vision for Biblical Health, Jordan Rubin - 90 mins
The Disease Economy, Dr. Jeff Hazim - 1 hour
Back to the Garden, Scott Laird - 1 hour
Fortifying Your Temple, Dr. Andrea Hazim - 1 hour
Babylon (Part 2), Michael Rood - 90 mins
Raw Food Demo, Paul Nison - 1 hour
Finding Your Voice, Chaim Goldman - 1 hour
What God Created for Food, Jordan Rubin - 90 mins
Panel Discussion/Q&A (Scott, Paul, Jeff and Andrea) - 2 hours
+ Bonus Teaching:
Shifting Sands or Changing Paradigms, by Dr. Jeff Hazim
+ Bonus Smoothie Demo with Michael Rood and Paul Nison
+ Closing Bonus Teaching: "The Missing Gospel: Adventures in Holiness" presented by Dr. Jeff Hazim
That's 16+ Hours of Awesome Biblical Health Teachings!
Virtual Conference Details
How Does a "Virtual Conference" Work? It's Easy…
You don't come to it, it comes to you! When you attend a live conference, you need to stop what you're doing for days,
travel in, stay at a hotel...and every person attending pays a registration fee. While live conferences are fantastic,
we know that it can be hard to fit them into your schedule, and your budget. Also, because they are live,
live conferences are very intensive; you must sit in session after session and absorb a lot of information quickly.
And, if you miss a session, you missed it....unless you buy the recording.
But, with our "Out of Babylon" Virtual Conference…You register just once for your entire household and we begin
immediately distributing wonderful teachings to you from pioneers in the field of Biblical Health through the
Biblical Health TV password protected online membership portal. And you won't be overwhelmed or have take off
from work, because we will be sending you one 60-to-90 minute session every other day (beginning as soon as you register).
And you watch it on-demand on your schedule, so you never miss a session. And everyone in your household can watch
when THEY want to. And you get Lifetime Access to all the content, so you can come back and review it whenever you like
(It's like we thought of everything!! ;-) )
ALL Conference Content will be distributed to you over the Internet
On-Demand through the BiblicalHealth.tv Members Website.
(No hard-copy materials will be sent)

Upon completion of your registration, a link will be emailed granting you
immediate access to the Members Website and Conference Preview Videos.
The "Out of Babylon" Virtual Conference Begins as Soon as You Register
Your first Conference Session will be immediately accessible
when you register and a new session will be added every other day.
You will be notified by email when each new session becomes available.
Your Membership is password protected, and is exclusively
for you and your entire household. This is a Lifetime Membership to all the Conference content.
If you currently have any membership access to BHtv, the "Out of Babylon" Conference content
will be added to that existing membership (as long as you submit the same email address.)
100% Money Back Guarantee
We are so sure that you will find the "Out of Babylon" Virtual Conference to be
one of the most valuable health courses you could ever purchase, at any price,
that we are offering a 100% Money Back Guarantee for 15 days.

This means you can view the entire Conference with absolutely NO RISK!

Just write us at our Help Desk within 15 days of registering, requesting a cancellation and refund, and we will
issue a complete refund. Contact: www.BiblicalHealth.tv/help with the word "Refund" in the subject line.

Please Note: If you do choose to cancel, you will no longer have access to the "Out of Babylon"
Conference sessions,

Teachers



(all bios written at time of recording)

Jordan Rubin
Jordan Rubin is the author of the New York Times best selling book, The Maker's Diet, as well as the author of 19 other health related titles, including his latest work Perfect Weight America. He is Founder and CEO of Garden of Life, a health and wellness company committed to empowering exleadingtraordinary health with whole food based supplements, functional foods, and educational resources. Jordan is also the Founder and CEO of natural foods producer Beyond Organic, whose mission is to transform the health of the world one life at a time by creating superior quality health and wellness solutions while teaching the principles of Biblical health, abundant living and environmental stewardship.
---

Paul Nison
Paul Nison is a Teacher of Raw and Living Food Nutrition, Health Author, Raw Food Chef and Torah Teacher. Paul currently resides in West Palm Beach, Florida with his wife Andrea and their daughter Noa.
---

Dr. Andrea Hazim
Dr. Andrea Hazim has a strong desire to inspire growth in all areas of life! When she is not busy wearing her Wife or Homeschooling Mom hats, you will find her teaching others how they can achieve optimal health through Whole Food Nutrition.
Whether it is through her "Lessons for Healthy Living" video series, a hands on "Healthy Gourmet" seminar, or teaching homeschool youth with Classical Conversations, Dr. Andrea's presentations are relevant, motivational, and highly creative. She is also a Biblical Health Television Expert (BiblicalHealth.tv) and serves as Co-Director of its ministry initiative called Nourish the Nations.
---

Dr. Jeff Hazim
Since 1991, Dr. Jeff Hazim has been a professional in Natural Health with an emphasis on uncovering honest answers to what causes sickness, lack of vitality, and decreased longevity. He's dedicated his entire career to changing lives, through Chiropractic, Nutrition, Detoxification, and Fitness, all centered on teaching God's truth in these areas.
Through NutritionCrafters.com and his use of cutting-edge technology, Dr. Jeff ministers healing and health to patients around the world. Besides authoring "The Heart of David" book and co-producing the "Lessons for Healthy Living" video seminar, numerous radio programs, and health webinars, he is currently piloting an amazing soon-to-be-released fitness and fat loss protocol called Lean on Me. Dr. Jeff is also the co-founder and Executive Director of Biblical Health Television (BiblicalHealth.tv), the only network entirely dedicated to Biblical Health.
---

Scott Laird
Scott is a Certified Health Specialist and a member of Hallelujah Acres' marketing team. He has written countless articles for Hallelujah Acres' Health News magazine, which he oversees in addition to writing and hosting online vegan health videos and managing content for most other Hallelujah Acres communications. He is currently earning designations as a certified nutritional counselor, master herbalist, and doctor of naturopathy.
---

Chaim Goldman
Chaim Goldman, Executive Producer of Biblical Health Television, has been a media and marketing professional for more than 25 years, and if asked to define himself in a word will tell you its most definitely "storyteller".
Chaim met Michael Rood in 2001 and began developing the "A Rood Awakening!" television program that same day. He moved to Israel and was Senior Producer of A Rood Awakening until 2006, leading the crew that helped Michael launch and grow his TV ministry in both the English and Spanish-language worlds.
Michael Rood
Michael Rood has earned his reputation as the Messianic matador who waves his tattered red cape in the face of the religious bull of this generation. Michael's television series: Prepare for A Rood Awakening! from Israel has been heralded as the most energetic exposition of Scriptural truth to come out of Israel in over a millennium.
---