THE  PINK-IFICATION



Join BHtv's October Revolution
"For the Prevention"
Wear & Share Purple Ribbons Campaign
The Cure for Cancer is TRUTH & Proper ACTION!
 
During Breast Cancer Awareness Month 2014…
Trade in those Pink Ribbons for Purple, and Help People Embrace the Truth about Health!
ORDER PURPLE RIBBONS TO WEAR AND SHARE
Launched in December 2013, Biblical Health TV's "For the Prevention" Purple Ribbons Campaign is a grassroots effort to both co-opt and correct the global breast cancer "pinkwashing" phenomenon that has turned a horrible disease into a big-bucks marketing scheme for just about every type of business under the sun.
Our mission at BHtv is to promote God's plan for true health, and that means exposing deception and error no matter where it occurs. While our everyday battle is against the Goliaths of the Pharmaceutical, Medical, Food, and Media industries, we also must confront popular culture even when it is seemingly well-intended.
We have no doubt of the love and sincerity shown by all those around the world who put on pink and help raise both money and awareness for breast cancer, but we have to wonder why billions are being given to pharmaceutical companies to develop new drugs that will supposedly "cure" breast cancer, rather than in educating women how to prevent the disease altogether.
And isn't it strange that so many companies are willing to associate themselves with a disease and use it to market their products; and how ironic that many of these same products are themselves carcinogenic!
Well, we decided that enough is enough, and that it is time to teach about the real causes of cancer and all other disease, in order to produce genuine health, not corporate profits.
But, we couldn't ignore how successful the pink ribbon campaign has been for "Komen for the Cure" and other organizations, and so we decided to launch a ribbon counter-campaign of our own, borrowing on the positive associations everyone seems to have, but founding it in Biblical and scientific truth!
Are you tired of all the "pinkwashing" while we never seem to be offered a real cure? Then join the Biblical Health Revolution, proudly "wear and share" the purple ribbons, and spread the word about God's plan for health wherever you go!
The purple ribbon is a great conversation starter, and we've found that so many people have personal cancer stories that they are very receptive to receiving a ribbon and immediately wearing it.
So this October, stem the tide of PINK!
Wear and Share BHtv's "For the Prevention (and the Cure)" Purple Ribbons!!
ORDER PURPLE RIBBONS TO WEAR AND SHARE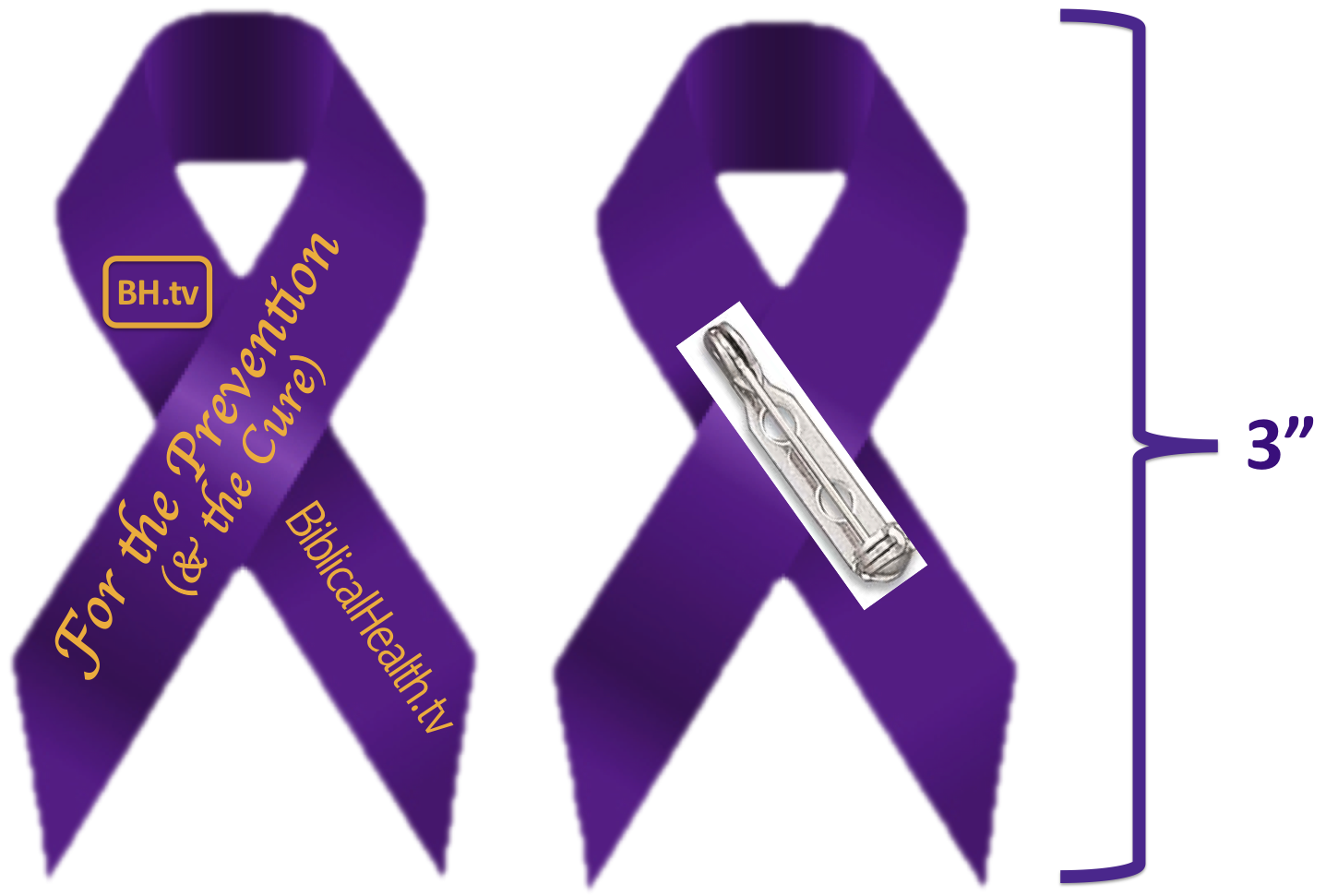 3″ Purple Metallic Ribbon and Gold Metallic Text with Quality Metal Pin Clasp
(artist rendering, not a photo)
For more information about our "Wear and Share" Purple Ribbons Campaign, pls write our Help Desk.