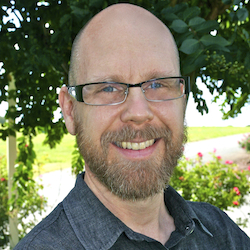 Scott Laird
Doctor of Naturopathy, Master Herbalist, and Certified Nutritional Counselor
Now an advisor to Biblical Health Television, Scott spent 5 years in charge of writing for Hallelujah Acres, a Christian health organization dedicated to promoting God's original, plant-based (vegan) diet as found in Genesis 1:29.
He has written countless articles for Hallelujah Acres' Health News magazine in addition to writing and hosting online vegan health videos and managing content for most other Hallelujah Acres communications.
Scott and his wife Jodi have been married since 1996 and discovered a plant-based diet by chance after watching health videos while housesitting for friends in 2007. The diet change helped reverse and eliminate colon issues and heart palpitations for Scott, Hashimoto's disease for Jodi, and asthma for both of their home-schooled children who are now champion gymnasts.
The Laird family has found their plant-based diet to be a powerful example of Biblical health and disease reversal to both their Messianic community and to their extended family abroad.